Step 3 covers destination schools and producing CTFs for your leavers.
1. Create Destination Schools
If you did not create your destination schools in Step 1, this gives you another chance to complete this. This is required if any leavers are going to a school you don't have set up on ScholarPack already. The link will take you to Admin > Config> Destination School Setup. 
If you need to check a school's details, click on 'Find School and LEA reference numbers' and the link will enable you to search for the school by name.
2. Assign Destination School to Leavers
If you did not assign a destination school to students in Step 1, this gives you another chance to complete this. This information will allow you to generate your CTFs more efficiently and have a record of which school each student moved to.  The link will take you to Admin > Students > Group Updater.
3. Produce CTF's for this year's Leavers
Through this area you are able to produce a CTF for those leaving the school if you have not done so already.
Click the link which will take you to the Export CTF area (also found via Admin > Students > Export CTF).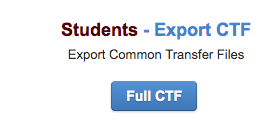 Here you can select the destination school you wish to send the CTF to from the top dropdown, as well as the curriculum year group then click Choose. 
If a destination school has not been assigned to the students yet you can still create a CTF, just don't select the school you require from the dropdown.  Instead type in the school LEA, ESTAB and URN manually to the filters and select the year group of the students required and then choose.
Already off rolled the students?
If you have off rolled the students already, make sure to click the 'Former' box to include Former Students.

Once loaded you will see a list of all students in the Year group selected who have been assigned to that destination school, you can then select specific students to include in the CTF or 'Check All' to select all the students listed.
Once selected the 'Attendance Sessions' ought to automatically be included, please check prior to generating the CTF. Then click on Generate Common Transfer File.

Where will the file save?
The CTF will automatically save to your downloads folder on your computer. 
If you wish to open and move this file to somewhere else on your computer you can. However, be sure to not amend the file name as this is a DfE standardised name used to send the data on the S2S website.
What's next?
Once you are happy that you have generated all your CTF's, move to the next stage by selecting 'I have produced all my CTFs' which will move you on to Step 4.
See:  Step 4 - Off Roll Leavers