You can record an internal exclusion from the student profile.
Recording an Internal Exclusion
Head to the conduct tab, and then select Incidents from the menu on the left hand side.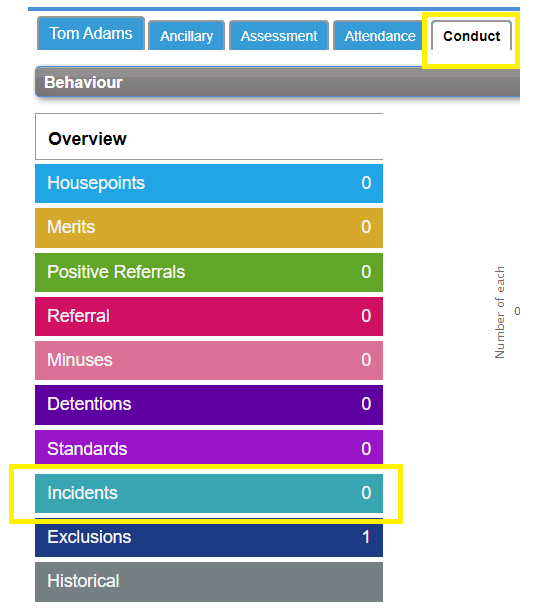 A bar chart will appear showing the number of incidents the student has had per month. Click the green Add button just above the table.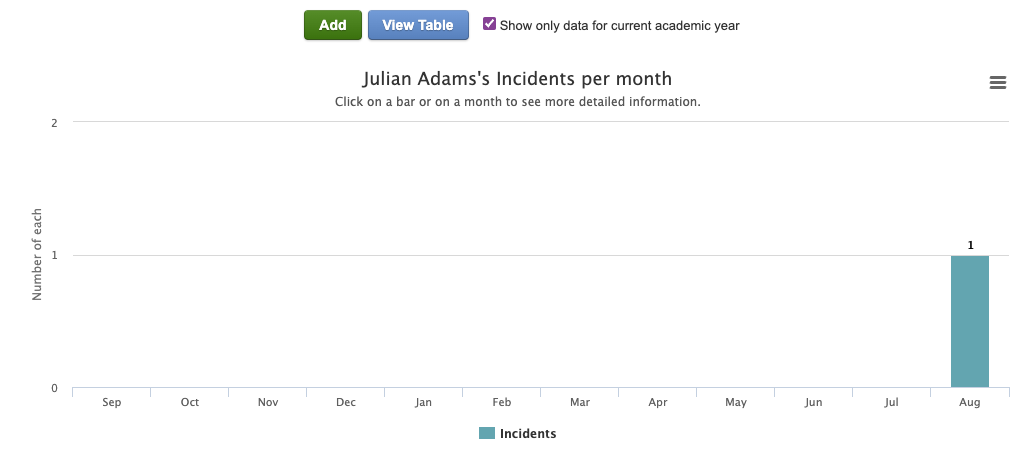 Fill out the Incident details, and from the Action Taken dropdown, select Internal Exclusion.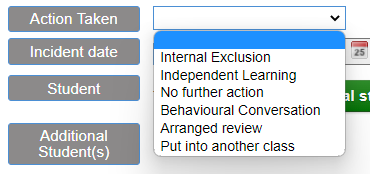 Click Save to save the incident, and it will return you to the bar chart view, where you can see the Internal Exclusion has now been added. To view it in detail, click the View Table button above the bar chart.

Reporting on Internal Exclusions
You can report on internal exclusions using the Incidents Report, available via Reporting > Reports > (orange) Conduct tab > Incidents.
Select the relevant dates and students from the dropdown menus (or leave as is to default to all students for the academic year), and click Choose.
In the Action taken column, type 'Internal Exclusion' into the white filter box just underneath the column header and press the enter key.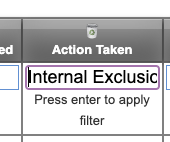 This will filter the report so only Internal Exclusions appear. You can then export it if needed via the yellow icons in the top-right hand corner.
Important note on your school's terminology
If your school has renamed the conduct reasons in Admin > Config > Custom Relabelling, the wording of the conduct tab menu and reports may be different. This doesn't affect the function, and internal exclusions can still be reported and recorded on this way.
If Internal Exclusion does not appear as an option from the Action Taken dropdown when recording, it means the option has been edited by your school to something else in Admin > Config > Incidents. Please check with your school's senior team to confirm an alternative term.