We have functionality that allows students to be divided up into 'teaching bubbles'. This will allow you to take registers for these Bubbles, send SMS or emails to specific groups of parents and run reports.
NOTE: We do NOT recommend you change any existing year or form groupings. You should instead use the teaching bubbles to divide students into temporary teaching groups.
Students in Bubbles
Setting up Bubbles
Please note that ScholarPack is designed to work with Google Chrome Browser and the below steps do not work in Internet Explorer.
Go to Admin > Config > Bubble Config.
Click 'Add New' to add a new group.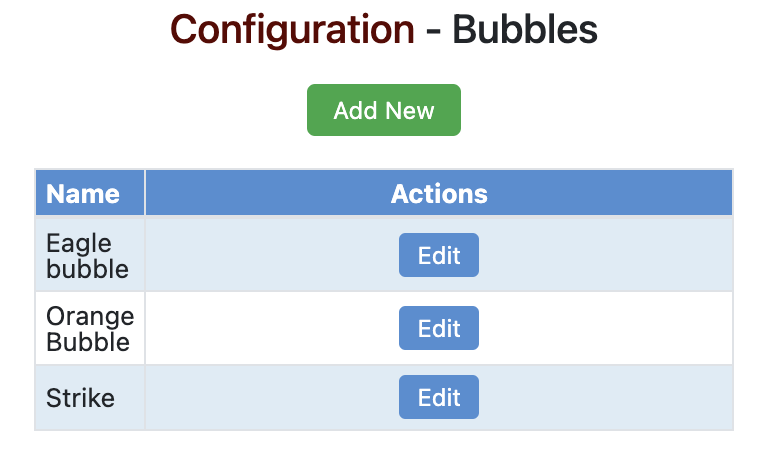 Enter the name of the group in the pop up window and click 'Add.'
NOTE: once students have been added to a bubble (see next step) the groups cannot be deleted.
Adding students to a Bubble
Go to Admin > Students > Group Updater
Select the relevant year group/form from the drop down menus and select 'Bubble' from the Student Attribute drop down menu: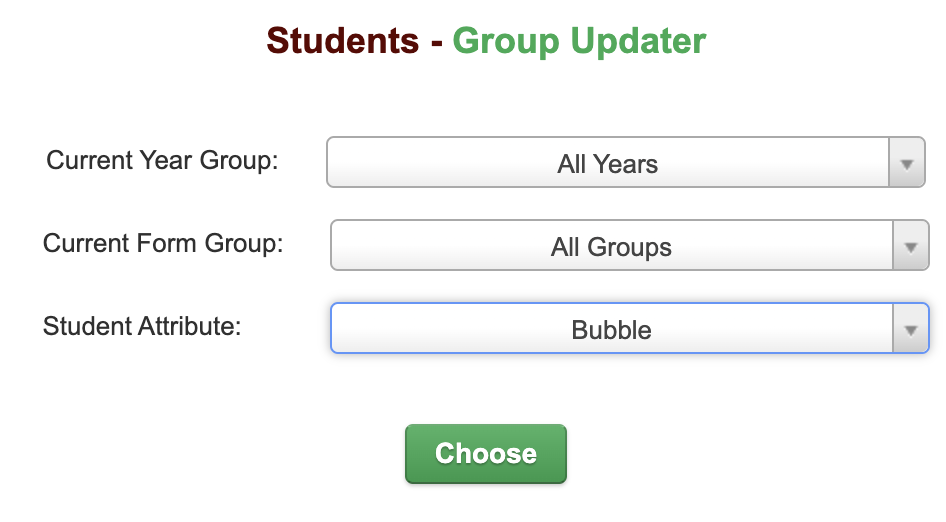 Select the relevant Bubble group from the drop down menu, and in the 'Select' column, tick all students that will be part of this group.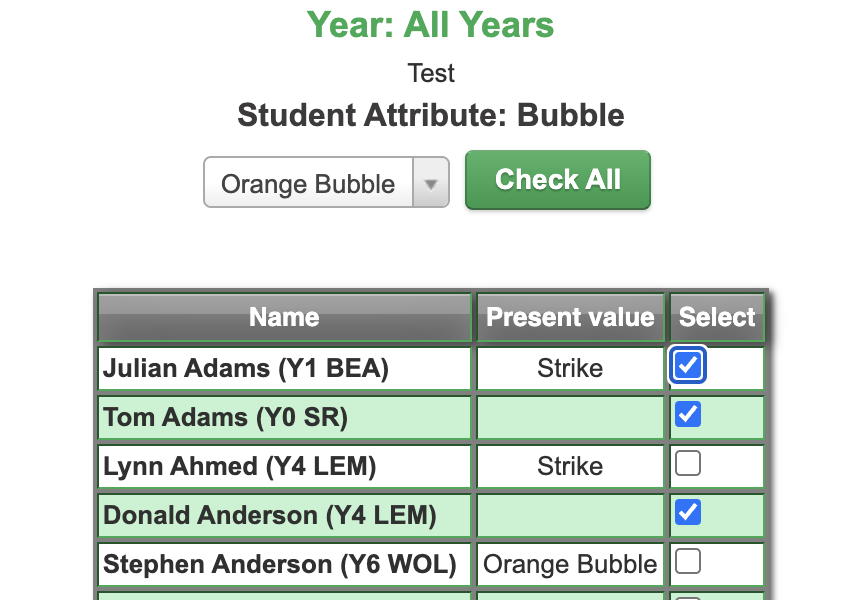 Click 'Update Students' at the bottom of the screen to save the group.

You can also add this information via the Extended tab on the student profile.
Each student can belong to one teaching bubble at any given time. The same student cannot be added to multiple bubbles.
Removing a student from a Bubble
On the student profile's extended tab, select the blank space at the top of the bubble groups in the Bubble dropdown, then click on Save.




All current students can be removed from a Bubble in bulk. Go to Admin > Students > Group Updater, select Bubble as the student attribute, then click 'Choose'.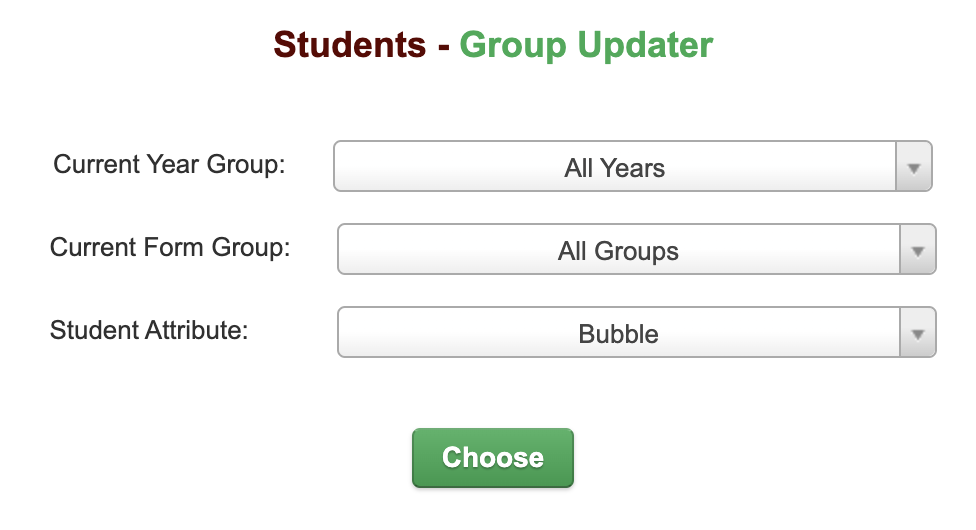 From the dropdown above the student table, select 'No Group', then either tick students or click 'Check all'.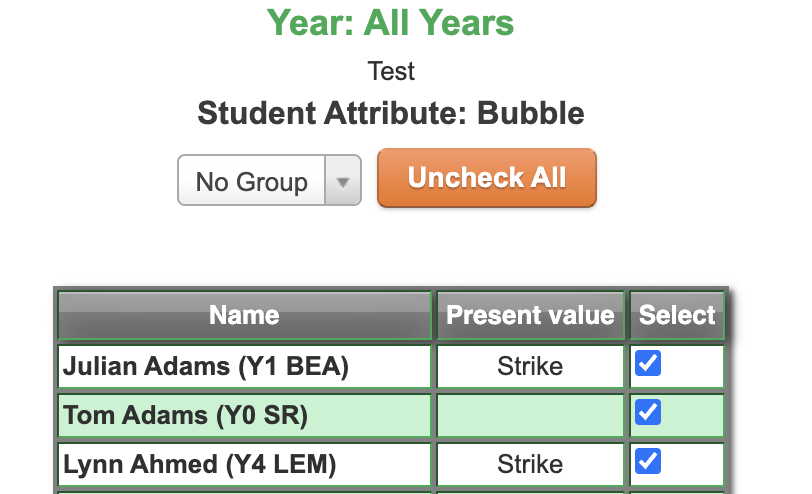 Any selected students (Check All or individually tick them) will then be removed from a Bubble once 'Update Students' is clicked at the base of the student table.

If you require former students to be removed from the Bubbles:
If your school is supported by ScholarPack directly, click the 'Contact Us' button in the top right of the

Help Centre
If your school uses a Support Partner, please contact them. Click their name in the top right of your ScholarPack above the search box, for their contact details.
Deleting old Bubbles
If you delete a Bubble or change the Bubble a student is in, their attendance and any attainment data will stay on the Student Profile.
To delete a Bubble, there needs to be no current students - remove them using the processes outlined above.
Then to delete it, go to Admin > Config > Bubble Config. Select Edit next to the Bubble name, then click Delete.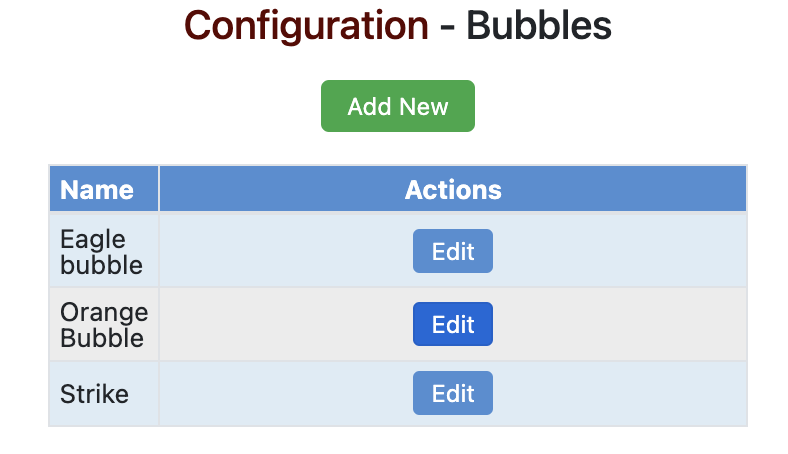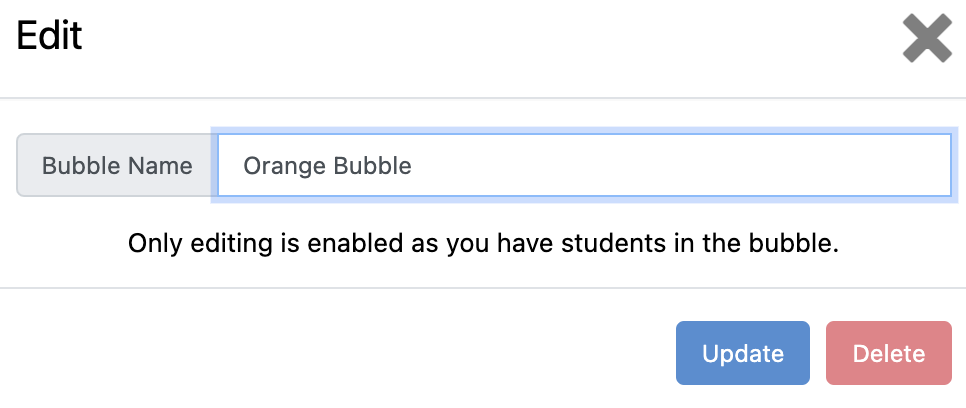 Registers
Taking the register
Go to Home > Register
You will see a new section called 'Bubble Registers'. Here you can select any of the teaching bubbles you have created and you can take the register for this specific group. This replaces your normal Form or Year Group register.
Select the relevant group and click 'View'.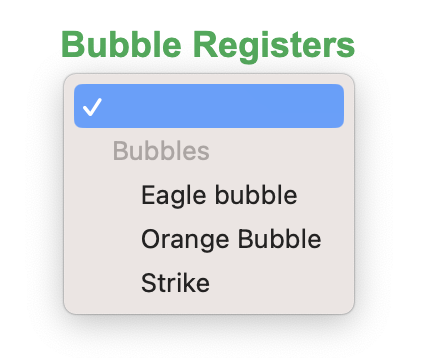 Take the register and click Finish Register.
Alternatively, you can use Register > Manager Register and select the relevant teaching bubble from the 'Dynamic Group' drop down menu. To help you configure the register to show all DfE codes, please see: Register Config.

Daily Check and teaching bubbles
Once the register has been taken in Home > Register, you can see it has been taken in Register > Daily Check.
Note: A register time taken will not be available.

If the register has not been taken in Home > Register it will record 'No codes' (check Manage Register to see if the register was taken in this area instead).
If the register has been taken you will see the number of students present out of the number of total students in the bubble.
Check the authorised and unauthorised absence codes in Daily Check to see if any N codes need amending.
Blank Student Register and teaching bubbles
In Reporting > Reports > Attendance (tab) > Blank Student Register you will find the Bubbles have been added as an additional option. If you click Bubble prior to clicking Choose, you will be able to view the blank register by Bubble group (for downloading and printing).

Fire lists for teaching bubbles
Go to Home > Bubble Fire List > AM or PM
A PDF download will show a page per bubble, showing all students that are present in school.
Reporting on bubbles
Meals Reports and teaching bubbles
In Admin > Meals a number of Meals Reports can be split by Bubble, on the right side of the report.

Reporting on teaching bubbles
As soon as a teaching bubble is created, a dynamic group will automatically be added to ScholarPack for you. You can then choose to run a majority of reports in ScholarPack based on a specific teaching bubble.
Sending SMS/email to teaching bubbles
Go to Admin > Comms
Select the teaching bubble(s) you wish to send a communication to by clicking on Dynamic Group and then clicking on the relevant teaching bubble(s).
For information on sending communications, please see: Using the Comms module for sending Emails, SMS/App messages and Letters