In order to re-admit, or reinstate, a student who formerly attended your school, please go to Admin > Students > Search not on roll.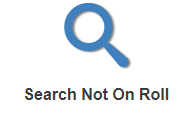 Then click on the student drop down, start to type their name and then click on choose.

You'll see a green button "reinstate" Click this and the student will be re-admitted.

Please note that the student will automatically be given that day's date as their Entry Date, so you may need to amend this date on the Extended Tab.