When you have a member of staff that you need to record on the system, but does not have a contract or require a profile, you can set them up as "Non Contracted Personnel" and record any details and data you require for them in a central area.
If you go to Admin>Personnel you will see an option called Central Register.

Please note this area requires a specific User Role called Central Register Editor and Central Register Viewer.
Once you are in this area click on the tab that says "Manage Non-Contracted Personnel".

Click "Add" and populate these fields as required. The 2 options you have is Non-Contracted and Non-Contracted Full DBS, depending on what you need/want to record for them.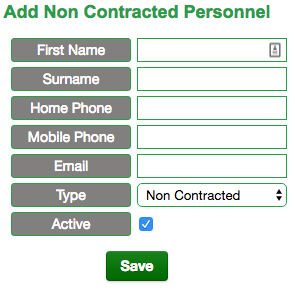 Once you have clicked save this staff member has now been added to your Central Register.

To choose what data items you would like to record for these staff members please go to the "Manage Data Items" Tab.

From here you can now choose what you would like to record using the fields at the top of the table (shown below).

Name: The name of the field that you want to appear as the column header, for example "Role"
Data Type: The format of the data you wish to record (Date, Text, Yes/No)
Expires In: An optional number number of months used to ensure any values entered do not fall outside of this range. Applies to data types of date only. Any dates entered for this data item will go red if they are older than the number of months specified here.
Required: This will place an asterisk by the name in the view area to highlight that this is a required field.
Personnel Type: Apply this data item only to specific groups of staff (contracted or non contracted).
The final stage is to 'Add' the data item, which will complete the process and add it to the table below.
The 'Actions' column allows you to edit, delete or show/hide the data item.

Bin: This will delete the data item. Any data items with values already present for staff cannot be deleted.

Pencil: This allows you to edit the selected data item. It's not possible to modify the data type once an item has been created.

Show/Hide: This button will show or hide any data item. Hidden items will not appear in the view area. Hidden items are indicated as follows:

Once there is a data item assigned to non-contracted personnel, you can input data for these staff members in the View tab. Scroll all the way to the bottom until you reach "Active Non-Contracted Personnel" and to input data click into the white space and it will expand providing you with the text or the date box.

(Below is what it looks like expanded)

Please note that any non-contracted personnel or non-contracted personnel full DBS which you already have entered in Manage Non-Contracted Personnel will not show on the View tab until you have data items for them entered in Manage Data Items.
When editing data, there are three common icons available:

Green Tick: Save any changes you have made

Red Cross: Exit the editing window without saving any changes.

Bin: Delete this entry entirely.
The date type has an additional icon:

Calendar: This will open the data picker, allowing you to choose a date from a calendar.