If you believe an attendance code has been changed and need to find out when it was changed and who by, you can go to Reporting > Reports > Attendance (tab) > Attendance Audit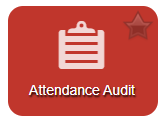 What does the report display?
This report will show any attendance code that has been changed and by whom.
It will not show codes that have not been changed.
How do I filter this data?
The first step is to select the year or form and the date range of interest.
PLEASE NOTE
This is the date range of when the change took place, not the date of the code.
The report will then show key information on changes to any attendance codes.
How do I export this data?
Exporting your data allows you to print, save, or further edit the information on screen. To do so, click this icon (in the top-right corner).
Additional information
Clicking on the student's name will take you to their individual profile
Student names highlighted in red represent students who are no longer on roll.
The star on the report identifies a 'favourite' report. Click the star to toggle yes or no.