Please note:
In order to access and change these settings, you will need both the Admin and Sysadmin user roles.
For guidance on how to find out who has Sysadmin at your school, please click here.
For guidance on how to assign user roles, please click here.
You can change this via Admin > Config > Security Settings. Click on the padlock icon.
Here you will see the following: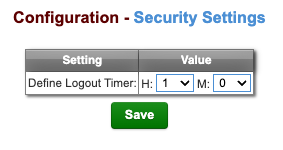 Select the desired time limit via the hour (H) and minute (M) dropdown boxes and click Save, this will adjust the amount of time your ScholarPack stays open for all users on your site before they are automatically logged out.