A good way to get a complete breakdown of how many minutes late a student has been, would be to run the Minutes Late Report.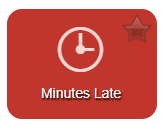 Reporting > Reports > Attendance (tab) > Minutes Late
Choose your date range and decide if you want to split the student up using the tick boxes here.

Once the Report is ran you will see a list of students and the total minutes late for the chosen date range. Click on a figure in the "Total Lates" or "Minutes Late" column

This is now your breakdown of all minutes late and notes for the chosen student. This can be exported and printed on its own using the Yellow Export icon in the top right hand corner.