Please ensure your Year End process has already been undertaken first, as this will ensure all attendance and assessment data is archived into the correct academic year. Go to Admin > Year End to check that it has been fully completed. 
If you need to change the start date for this academic year go into Admin>Config>Core Setup>School and then click Edit above the table with the school details. You will then be able to enter a new date next to Year Start and click Update to save the change.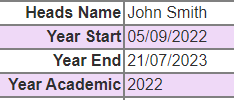 Please note that the dates need to be a weekday (the first day students return and the final day students are in school). If a weekend date is entered, then the Weekly Breakdown table will not be visible on the student profile Attendance tab, displaying their daily attendance codes in the academic year. 
This is the view on the Attendance Tab when a Saturday or Sunday date is used in the School Details table. 

This is how the Weekly Breakdown ought to view at the start of the academic year.