Form Groups in ScholarPack are your registration groups/classes.  You can add, edit or delete Form groups in ScholarPack via Admin > Config > Core Setup > Forms.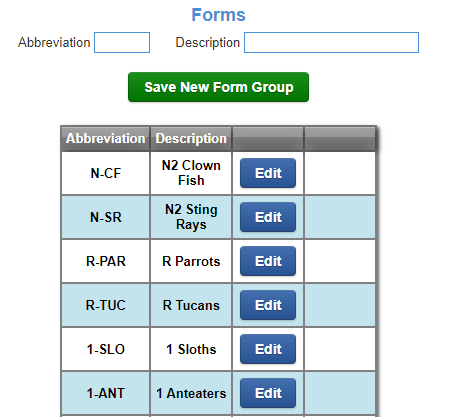 Add a Form Group
To add a Form, enter an abbreviation and description in the boxes provided then click on "Save New Form Group".
PLEASE NOTE:
Form Abbreviations need to be unique, so ensure each one is different otherwise this will cause issues in the system
Edit a Form Group
To edit a Form, simply click the Edit button to make your changes then click Update.
The red box shown below is highlighting that the Form has changed from N-CF to N-CF2 which will update any students currently assigned to N-CF. Students are not physically moved anywhere.

You are not able to merge Form groups, for example merging two Forms into one.
You would need to create a new Form group, give it a completely different name, then assign your chosen students to this new Form using the Group Updater.
Delete a Form Group
You are unable to delete a Form group whilst there are still enrolled students assigned to it.  Once there are no students assigned to the form, there will be a delete button visible.



Reorder Form Groups