How do I credit off a meal debt?
To credit off a meal debt go to Admin > Meals > Student Meal Payments.
In this area select the Year and/or Form for the student you need to look at and click Choose. Locate the student with the debt in the table. For example in the screenshot below we can see Helen Marshall has a debt of £10.00.

To clear this click the blue card icon in the refund column.

Then click Add New. On this screen enter the amount to be credited (the credit should be entered as a positive amount), add a note if needed to and click Insert.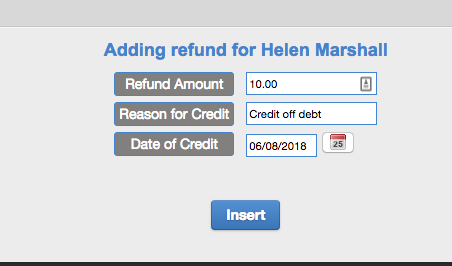 You will then see the debt has become zero:

This method will not show a payment in the banking so can be used if you have agreed to clear off a debt without receiving payment.