Staff can monitor a students profile by opening their student profile and clicking on the Conduct tab.
In the bottom right of the screen you will see a Monitoring section where teachers can click 'Start Monitoring' to watch that student. When a member of staff clicks on Start Monitoring this is just a flag to show the student is being monitored by this staff member.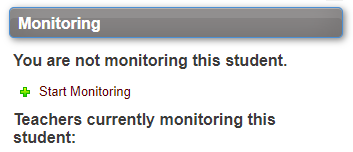 It also displays any other teachers also monitoring this student.

Staff need to stop monitoring a student themselves by clicking 'Stop Monitoring'.
If the staff member has left and can no longer do this:
If your school is supported by ScholarPack directly, click the 'Contact Us' button in the top right of the

 

Help Centre
If your school uses a Support Partner, please contact them. Click their name in the top right of your ScholarPack above the search box, for their contact details.
NOTE:
If anyone has concerns about this student they would need to notify this staff member, there are no automatic notifications linked to this option.