This is a guide for schools to use when supporting app users with issues or relating to the ScholarPack Parents App.
Top Tips:
Ask for a screenshot - Screenshots from parents can solve a lot of unclear areas and issues with the app. It shows what phone number the parent is entering and the Link Up Code they are using. If either of these don't match what is recorded in ScholarPack, you may have found the issue!


Check the data - Onboarding parents will always be a true test of the accuracy of school data. A great way to clear up any issues is to have a delve into the student profile and contact details of the parent who has a query. For example - if a parent's phone number is not correct they won't be able to log into the app. This is easily solved by checking the data is correct in the system.
Things to know:
Contact Duplication - Your school will have been advised to clean up your contact details via Admin > Config > Manage Duplicate Contacts.
This needs to be done prior to onboarding parents, and highly recommend looking into this periodically to ensure your contacts are up to date. This will also help with any 3rd Party API integrations or Data Exports in use.

60 Day Link Up Codes - Our Link Up Codes are valid for 60 days. If you generate codes for parents but wait until later on to onboard them you may have to generate a new set of Link Up Codes.


Multiple Mobile Numbers - If a parent has multiple mobile numbers entered in their contact details, the app will take the most recently updated one. If the parent is trying to log in using the first number entered, you will need to go to their contact details and save this number again, so it will be recorded as the last number saved.
A Parent Can't Log In:
Contact Number Type - If a mobile number is set as 'H' for Home number in the contact entry this will not register as a valid number for the app. In the screenshot below there is a mobile number set as 'H', so only the mobile number set as 'M' will be valid for the app.

Contact Priority - If a contact priority is set to anything other than 'Contact 1', check in the App Config area (Step 2 shown HERE). The default for the app is 'Contact 1' so you can change this in the App Config area if needed. Alternatively you may choose to alter the individual's contact numbering to Contact 1, if appropriate.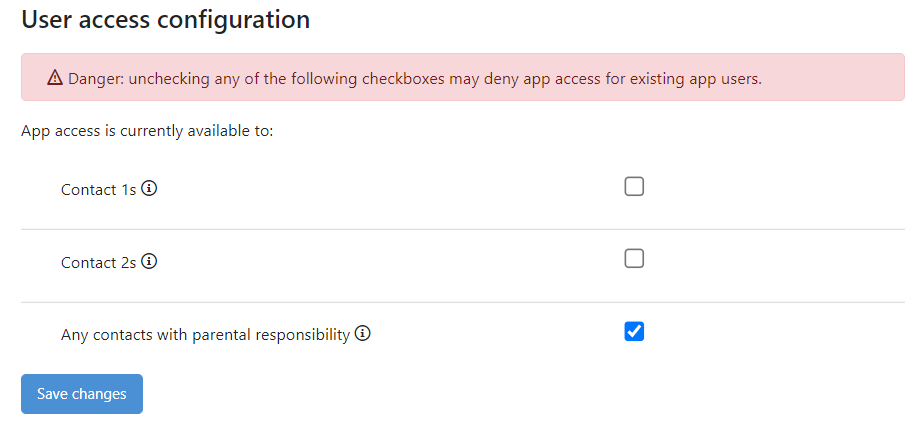 Make sure the details they are entering are correct - Ask for a screenshot of the error from the parent and this will show both the phone number and the Link Up Code. If the mobile number or Link Up Code being entered is different to the one against the parent in the Student Profile or Admin > Comms respectively, this will cause them not to be able to log in.


Other Things To Try and FAQs:
Re-Generating Codes - Our Link Up Codes last for 60 days, but your school may have had a gap between generating the codes and actually onboarding parents. If certain parents can't access the app and all the above methods haven't worked, you may need to revoke app access in Admin > Parents App > Manage Access and then click to 'Generate Link Up Code'.


NOTE: If a student contact has upgraded their mobile phone, with the same number, but data from the old device was not backed up, the Linkup Code must be revoked and a new one provided. The contact will need to go through the same Parents App setup process as a new user.
User Not Getting Notifications - If a parent mentions they aren't receiving their push notifications for messages on the app there are two ways of tackling this. If the parent goes to the 'Settings' cog in the bottom right of the app they can toggle the push notifications they want. Alternatively, within the phone notification settings there should be the option to receive or block push notifications from certain apps.


Error Accessing Saved Children - If a parent is having an error mentioning 'accessing saved children', there is some cached data that needs to be cleared, which is done in one of two ways. If the parent is on an Apple device they just need to uninstall the app and reinstall it. They will then have the option of entering the Link Up Code again. If they are on an Android device they will need to go to phone Settings >Apps > ScholarPack Parents app>Storage, then 'Clear Data' and 'Clear Cache'. When returning to the ScholarPack Parents app, the parent will then be able to add in their Link Up Code.


Parents Not Receiving Messages - If a parent mentions they have not received messages from the school, check the log in the Comms area (SMS & App Only). In Admin > Comms > Logs, click into the number in the 'App' column to see 'Message Status'. If this is 'read' there may have been a mistake on the parents side. If this is 'unread' you may need to contact our Support Team to look into this for you.
If you have tried all of the ideas above with no success, please contact your Support Team -
If your school is supported by Scholarpack directly, click the 'Contact Us' button in the top right of the

Help Centre
If your school uses a Support Partner, please contact them. Click their name in the top right of your Scholarpack above the search box, for their contact details.