Welcome to ScholarPack! This guide will assist you with getting started using ScholarPack as your school's new MIS! This guide is not aimed at any particular role within the school and is instead a full overview of all the main areas of the ScholarPack platform.
If you would prefer to watch this guide as a video, please see below.
Part 1 - Getting Started
ScholarPack is a cloud based platform, allowing you to access it anywhere; all you need is your username, password, Internet connection and your school's ScholarPack URL (example of URL: https://scholarpack1.co.uk/schoolname).
To access your ScholarPack system, simply paste your URL into the address bar on your Internet browser (we recommend using Google Chrome if possible) and sign in once the page has loaded.
All users will have their own login credentials with their own specific user rights which will determine how ScholarPack will display and what is accessible.
The Dashboard - Once signed into ScholarPack you will see the dashboard, this shows you an attendance summary, bulletin board and live feed.
The Navigation Bar - At the top of the page you will also see your navigation bar, the icons displayed here will differ depending on the role you have been assigned.
Home Icon - Use the 'Home' icon on your navigation bar to access your register (if you are a teacher), change your password, access support documentation, log out or change the colour of your navigation bar.
Note: Please remember to always log out once you have finished working to ensure all data is kept safe. To sign out go to Home>Logout. It is also vital that you do not leave the system open and unattended while still logged in.
Help Centre - In the top right of the page you will see the Help Centre link where you can access documentation and support resources, please use this first if you are having any issues with using ScholarPack or require some advice on how to perform an action. If you are unable to find what you need in the Help Centre, the Support link will provide you with the contact information for your support team.
Note: 'Help Centre' was previously called 'Documentation', therefore, you may see it labelled this way on some of the videos, etc.
Search Box - Here you can search for Pupil Profiles, Staff Profiles (if you have admin access) and pages within your ScholarPack platform. You are able to search by Name, DOB, Phone Number, Form, Year, Postcode and Page Name.
Note: If you receive support from ScholarPack, you will also have a Help icon on the bottom right of the screen where you can start a web chat with the support team.
Part 2 - Pupil Profiles
The search function in the top right of your navigation bar gives you access to 'Pupil Profiles'. Names in your search box will appear alphabetically and you are able to search for a pupil by first or last name, year group, form, phone number or date of birth (the pupil's year/form will display next to their name in brackets).
Note: There are several tabs at the top of a pupil's profile, however, these will differ depending on the role you have been assigned.
Main Tab - This first tab has all of the core information for the pupil, you will see there are white cogs next to certain headers on the page, click on the white cogs to add/amend information. You will also see these cogs around other parts of the pupil profile.
Downloading a pupil's CTF - Click on the blue file icon that shows to the right of the pupil's name to download a CTF for that particular pupil.
Ancillary Tab - This tab is where you can record accidents and first aid (reports of first aid incidents can be exported/printed via the reporting area). You can also upload documents on this tab such as medical certificates, holidays forms, etc.
Assessment Tab - This tab will show all the assessment data for the pupil, including statutory assessments, ScholarPack steps and Simple Assessment.
Attendance Tab - This tab is where you can view all of the attendance data for that pupil; this includes overall statistics, daily attendance, cumulative attendance and weekly breakdown. You are also able to run individual attendance reports for the pupil.
Conduct Tab - This tab is where you can track positive and negative behaviour of the pupil. You also must endure to record exclusions here as this information is required for the census.
Extended Tab - This tab holds crucial data for your census; here you can input data for pupil premium, FSM, UPN, PLAC arrangements, assign a form group and also off-roll pupils.
Note: To off-roll a pupil you will need to enter a leaving date for them, click Save. Once saved, you can then select Off Roll at the bottom of the page, you will then be asked to select the reason why this pupil is leaving the school, then click Complete Off Roll.
Support Tab - This tab is where you can enter the details for the pupil's SEN support. Please note that SEN information must be completed for the census.
Comms Log Tab - This tabs displays a summary of any correspondence via ScholarPack including emails, SMS and Parent App messages sent via the system. You can also manually add any other communications with parents/guardians by clicking Add New.
Part 3 - Registers
Firelists
If you require a fire list to be generated, please go to Home>Firelist AM/PM, when you select this it will automatically generate and start to download a PDF of every pupil marked as present for the session.
Note: Teachers will access the register by going to Home>Register, whereas in this guide we will be looking how someone with an admin role would access the register.
Register Icon:
To manage the attendance data for your school, select the 'Register' icon located in the top navigation bar.
Daily Check:
Once the registers have been submitted, admin staff can use the 'Daily Check' to amend all unknown absences (N codes) for that day. They can also enter or edit attendance note and select the correct register codes.
Patterns:
Within the Patterns section you are able to set attendance patterns for current and future pupils, e.g. nursery classes or duel registered pupils.
How to set an attendance pattern
Choose Year/Form, then select the code and date range you require.
You can select the pupil/pupils you wish to change the pattern for by ticking the box under the 'Select' column. You are then able to either click on the sessions individually to change from a green tick to a red cross, or if needing to makes changes in bulk, you can also uncheck the boxes in the table above.
Not Registered:
Here you can check to ensure there are no gaps or missing marks within your registers (we recommend this is checked weekly).
Manage Register:
Here you are able to bulk fill registers, enter codes in advance, record late pickups (periods of 4 weeks maximum).
First, select the year, form, or individual pupil you wish to make the register adjustments for, then set the date range you require (or use the Quick Dates feature) and then click View Register.
The register will now be shown for the pupil/pupils you have selected.
If you need to amend or enter an attendance mark, click on the red box or code that you need to change, you will then get the option to enter a note and code for that session. Once a code is selected, the box will collapse and save automatically.
For the codes L and U, you will also be given the field 'Minutes Late' to allow you to log the amount of time the pupil was late by, once this has been entered please select Save.
To bulk fill the register with a chosen code, select the code from the drop down box at the bottom of the page and select Fill Spaces. If you need to also overwrite any existing marks with this bulk fill, please ensure to tick the 'Overwrite' option next to the drop down box.
If you need to delete all codes, please answer the simple maths problem and select Remove displayed codes.
Entering late pickups:
Select the pupil you need to enter the late pickup for, tick the Manage Late Pickups option and select View Register. You can now enter the reason and time of late pickup and select Save (to view all entries for a chosen date range, run the 'Late Pickups Report').
Part 4 - Student Admin
This section will focus on the features within the Admin>Students area of ScholarPack.
Add students manually
Admin>Students>Add Student Manually
Within the 'Add students manually' section you are able to manually create a pupil profile by entering the core information of the pupil; legal names, date of birth, sex, entry date, etc. Once you have entered this information, select 'Add Student' at the bottom of the table to submit.
Assign attributes to multiple students
Admin>Students>Group Updater
In this section you are able to select the group of pupils and the attribute you wish to change from the drop down menu, then select Choose. Once the selected list of pupils has loaded, select/enter the value, tick the pupils you wish to update and click Update Students at the bottom of the table. All selected pupils will be updated to the chosen value.
Customise pupil permissions
Admin>Students>Permissions Lookup
Here you can edit, delete or rename existing permissions, or add a new permission which will then show when selecting permissions on a pupil's profile. To add a new permission, select Add New, name it how you require, then select Insert.
Note: If you need to assign a permission in bulk, please do this in the Manage Permissions section, you can locate this by going to Admin>Students>Manage Permissions.
View/reinstate off rolled students:
Admin>Students>Search Not On Roll
Select the pupil/form/year from the drop down menu then click Choose. Once the selected list has loaded you can use the options in the far left column to create a CTF, view the pupil's profile or reinstate them back on-roll.
Note: Reinstated pupils will show on registers immediately unless you set an alternative entry date within the pupil's profile on the extended tab.
Import CTF/ATF:
Admin>Students>Full ATF/CTF Importer
To import a CTF/ATF, select Add/Merge students from CTF/ATF, upload the file from your computer by clicking Choose File and selecting the one you require.
Outcome 1 - If you have already manually created a profile for the student with their UPN then when you upload a CTF/ATF for the pupil with a matching UPN, ScholarPack will recognise this and notify you that there is a match. Select the options you wish to overwrite on the existing profile and click Manage Record to confirm, once you are happy with the information, select Finish Import at the bottom of the page.
Outcome 2 - If the pupil is not found when importing the CTF, select the options you wish to retain and select Enrol to create their pupil profile.
Export CTFs in bulk:
Admin>Students>Export CTF
Note: You must first assign destination schools to pupils using the Group Updater.
Select the type of CTF file you require to export (Full CTF for transferring to next phase or partial CTF for statutory returns). Select the destination school and year group, then select Choose. You can select the pupils individually or select Check All, once selected, click Generate Common Transfer File.
Need to find school details?
To find any school details (Example: LEA numbers), there is an link called Find Schools and LEA Reference Numbers at the bottom of the page which will take you to the government Get Information about Schools web site, which you can also find HERE.
Part 5 - Reporting
Reporting>Reports
ScholarPack has many pre-made reports to assist with extracting and highlighting information. You can find these reports in the Reporting section, located in the top menu bar (alternatively, you can try searching for a particular report in the search bar located on the top right of the window within ScholarPack, more details on the search bar can be located within Part 1 of this document).
Note: Reports will always revert back to their original state once you refresh, this allows you to tailor the report to your individual need to view/export without changing the data that is stored.
Need a custom report?
A custom report can be created if more specific data is required. To create this, select the Create a Report tile located in the Custom section (grey).
Reports are colour co-ordinated to allow for fast location, simply click on the tab you require to see reports within that category.
There is also an option to add certain reports to your Favourites, you can do this by clicking the star on the right corner of each report tile which will cause the star to turn yellow. Any report you add to your favourites can be easily accessed by selecting the Favourites tab at the top of the page. If you wish to remove a report from your favourites, please click the star again to de-select.
Each report will have various filters (date range, student groups, form, etc) that you can apply which will allow you to refine the data and download/print only the information you require.
Download - To download the report, select the download icon at the top right of the screen and select which format you require (on some reports you may also be asked what size you would like the text to be, we recommend using the middle option). All exports will automatically be saved in your Downloads folder on your computer.
Print - To print the report, select the print icon at the top right of the page which will open your computer's print options.
Part 6 - Comms
When you first load the Comms section it will show you a list of all possible recipients that you can send communications to. On the left side of the page you are able to select all or specific contacts from years, forms, clubs, etc, which will then appear on the right side of screen for you to review before moving on to the next step (you can remove individuals from the list by clicking on the red cross). On the top menu, you are also able to select which numbered contacts to send communications to, or alternately, select all with parental responsibility.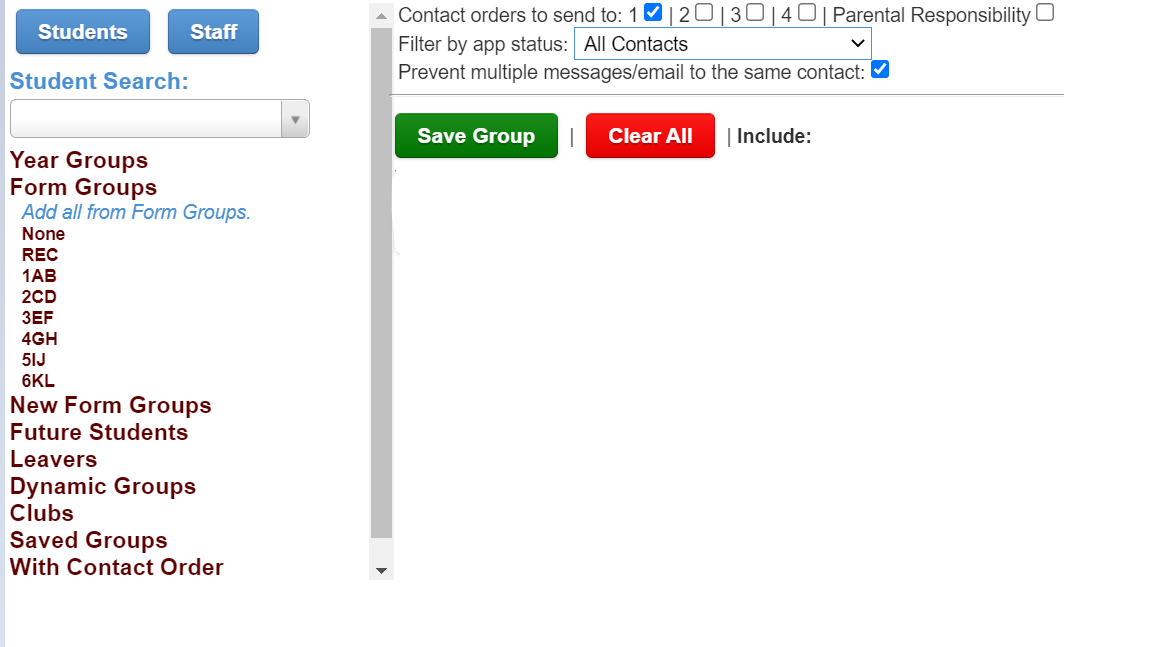 Once you are happy with your recipient selection, you can select what type of communication you would like to send (for this guide we will focus on SMS and Email).

SMS:
Here you are able to compose the SMS you would like to send to your selected contacts/recipients (up to 160 characters). As you type the message in the white text box, you will see an example of how this will look within the grey text box underneath. We have also provided a number of 'Dynamic Fields' for you to use to assist with composing messages in bulk which you can use by clicking on them.

You can save an SMS you compose as a template to use again by selecting 'Save as Template' and giving the template a name (e.g. School Closure). These templates will then be stored on the right side of the window for you to use if required.

When you are happy with the SMS you have created, scroll to the bottom of the page and select 'Send Message'. For information on sending Parents App messages, please see our training guide HERE.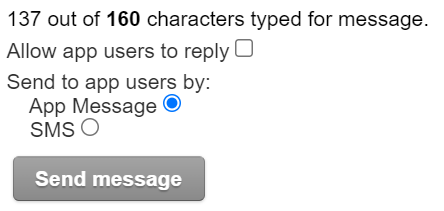 Email:
Here you are able to compose the Email you would like to send to your selected contacts. Firstly, enter any additional email addresses you may want to send this email to in the 'Email directly' field, if you do not need to send this to anyone else then leave this field blank, you also need to give your email a subject using the 'Email Subject' field.

Next you are able to create your email within the composition box, here you can also insert links or images, and you can save any emails you compose as a template by selecting the 'Templates' tab (this is also where any previously saved templates can be accessed).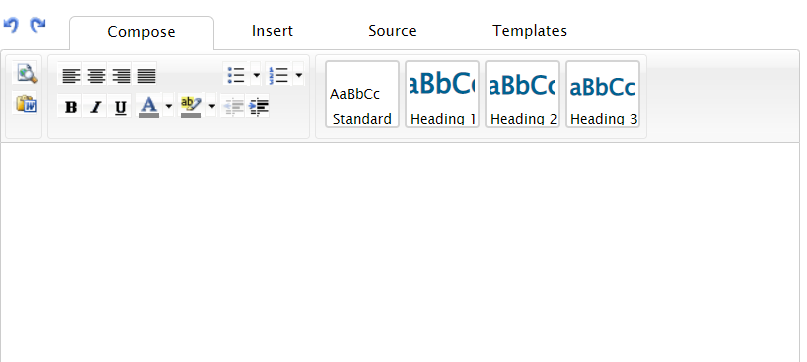 To assist with composing bulk emails, we have provided a number of 'Dynamic Fields' for you to use which will input the selected data into each email for you, please select the dynamic fields you wish to use by clicking on them.

Once you are happy with your message click 'Send Email'. A pop up box will appear to inform you how many emails are about to be sent. Click OK and a confirmation pop up will tell you that the email has been sent (to check back on what emails have been sent you can click into the Usage/Logs tab).
For further information on our Comms section, please see the documentation guide HERE.
Part 7 - HR (Personnel)
This section will focus on the features within the Admin>Personnel area of ScholarPack.
Staff Profiles
You can access staff profiles 2 ways; you can either search for staff profiles using your search box that is located at the top right of your ScholarPack window, or by going to Admin>Personnel>Staff and selecting the staff profile you wish to view from the drop down box.
Creating a Staff Profile
Go to the 'Staff' area as mentioned above, however, this time select Add New; You will be taken to a form where you can enter the required staff details (name, DOB, address, etc), you then can either select Insert to create a basic profile, or Next to continue adding more information for that staff member (you can add this additional information at a later date if required).
Once you have created a staff profile it will show in the drop down box within the staff section and in your search box. When on a staff profile you will notice black or white cogs located next to certain areas (similar to within a pupil's profile), these cogs allow you to add or amend existing information for the staff profile.
Note: If you wish to make a member of staff inactive (or active again), use the cog located next to their name. This cog will open the staff member's basic details for you to amend, the 'Active' field is located at the bottom right of the form.
Creating or Amending staff login details
While in the staff profile, next to their photo, select Create or Change password/roles (what shows will depend if hey already have had a login created for them or not). Here you can create them a new username for the first time, or change their password, you can also assign the role you wish to give that member of staff. If you are unsure on what access to give an employee, then please select Download the ScholarPack User Role Definitions located next to the role options to read more about what each role provides access to.
Note: You are unable to edit the username once this is created, if the username requires to be changed you will need to select Delete SP Logon and create a new one.
Recording a staff absence
On the staff profile, select he white cog located next to the Absences heading, this will allow you to enter the absence details. once you have completed this, select Add to save.
To edit an existing absence, choose an absence from the list and select the black cog in the Edit column to make changes. Once you have finished editing, select Add to save.
Staff Contracts
To add a new contract, use the white cog located next to the Contract Info heading, you can either create a brand new contract or clone one you have already created.
If you wish to amend an existing contract, select the black cog next to the contract you want to make changes on.
Note: fields marked red will be used for the census.
Adding additional information
You are able to add additional information and upload documents in the Extra Details section of the staff profile, these are things like qualifications, training, accidents/first aid, medical details. etc.
Note: The Confidential section at the bottom of the profile will only show to staff members with the Human Resources role assigned to them. Please ensure any sensitive information is stored here and nowhere else on the profile.
Edit/add new spine points
Here you can either amend an existing Spine Point by selecting the blue Edit button located in the Edit column, or you can create a new Spine Point by selecting Add New at the top of the page. When adding a new Spine Point you are able to enter the Spine Point code, description and pay amount, once happy with the information you've entered, select Insert to save.
Assign attributes to staff in bulk
Select the attribute you wish to change from the drop down menu and then select Choose. Select or enter the value you wish to assign, tick the staff members you require and click Update Staff at the bottom of the screen. All the staff you selected should now show the updated attribute you selected.
Create a supply teacher login
Select Reset Manually to create a new username and password, you can also use the print icon on the top right of the window to print this login off if you require to provide this to your supply teacher. Previous credentials will no longer allow access to the system once they have been reset. For safety, we recommend that these credentials are reset after the supply teacher no longer requires these.
Creating a training course
Select Add New and enter the course title, content, provider, venue, date start and date end. Select the staff that the course will be available to by ticking the relevant boxes. Once you are happy with your details, select Save. Once saved, the courses will be available to select for the staff you have chosen; the courses can be assigned in bulk using the Group Updater or individually on the Staff Profile.
Part 8 - Configuration
This section will focus on the features within the Admin>Config area of ScholarPack.
Adding destination schools
To add a new destination school for when exporting CTFs select Add New then enter the LA, ESTAB, school name and URN, then select Insert to save.
If you are unsure on the information for the destination school, select Find School and LEA reference numbers located at the top of the page, this will take you to the government 'Get Information about Schools' website where you can search for the school you require. You can also access the 'Get information about Schools' site HERE.