If you go to Admin > Meals > Set Up Meal Types you can view all the meal options you have set up in ScholarPack.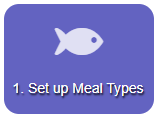 Any meal types that are not in use for the academic year can be deactivated as long as they have not been issued in that academic year and are set to 'not available'.
There is a column for Active/Inactive at the far right of the table.
Any meal type that is currently available will direct you to Admin >Meals > Set Meal Availability in order to make it unavailable prior to deactivating.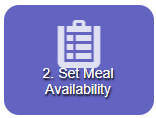 Here you can click on Remove all year if you wish to make the meal unavailable for selection all academic year (resulting in X displaying in the table).

If you then return to Set up Meal Types you will find a Deactivate button.
If the meal has been issued to staff or students that academic year, it will not be possible to deactivate the meal description.

Once deactivated, the meal will not appear in any of the meals reports, or Set Meal Availability. You will be able to make the meal active at any time by clicking on the Activate button.