Individual Student Profiles
If you go to a student profile, click on the Extended tab, and then scroll to the Personal Information area (yellow banner, second area down):
You will find Ethnicity is half way down this area. Enter the information, then Save at the base of the tab.
Update students Ethnicity in Bulk
You can also update students in bulk via the Group Updater. Go to Admin > Students > Group Updater and change the Student Attribute to 'Ethnicity'.
Filter for the Year/Form you want or leave on All Years/All Groups.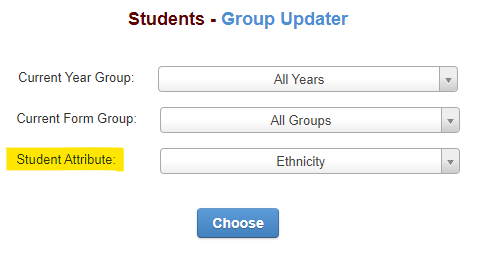 See which student do not have their Ethnicity recorded
To see which students do not have a ethnicity record you can go to Reporting > Reports > Students (tab) > Custom Report. Tick Ethnicity and run the report.
Once this has ran please click the Ethnicity header to sort into order groups together all the student who do no have this information on ScholarPack.
Can I add a new ethnicity to ScholarPack?
The ethnicities on ScholarPack are outlined in CBDS (the DfE's common data set). This means ScholarPack cannot add additional ethnicities - please contact the DfE and request they add more ethnicities to their dataset.