The Department for Education (DfE) would like schools to record and submit new data on alternative provision (AP) placements that have been arranged for students.
Definition of School-Arranged Alternative Provision
Alternative Provision is defined as full or part time education arranged by:
local authorities, either directly or working with schools, for pupils who, because of permanent exclusion, illness or other reasons, would not otherwise receive suitable education
schools for pupils to improve their behaviour off-site, or during a suspension
AP is not an out of school activity arranged in addition to a full-time education, including activities arranged primarily for recreational purposes or for SEN support. Nor is it educational home learning resources provided by a school for the pupils at home.
AP settings provide education for pupils who do not go to a mainstream school or special school full time. The education often takes place at a PRU, AP academy or free school, but placements can also be arranged in another mainstream or independent school that provides AP, or in an educational setting that is not registered with DfE. You will find the DfE guidance on Alternative Provision here.

Recording Alternative Provision in Scholarpack
To record AP Placements information, please go to the Support Tab on a student profile.
Scroll to the base of the tab and click on the cog next to School-Arranged Alternative Provision, then click on Add New.
The default setting is to record the Provision ID by URN, and the digits are expected to be manually entered.
Alternatively you can record by UKPRN digits or Setting Type.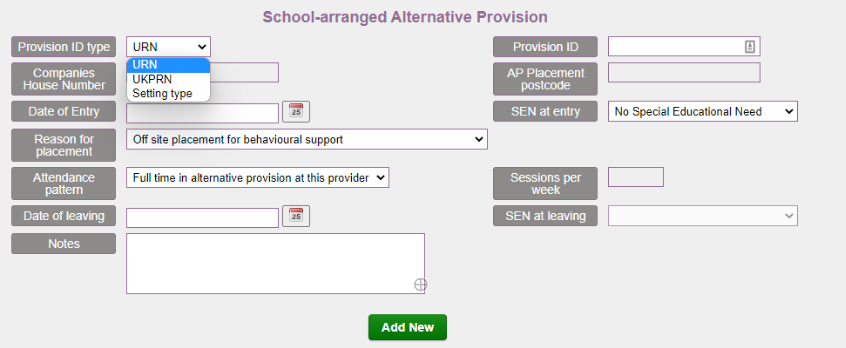 If you select Setting Type, you will be required to enter a Companies House Number as well as a UK Postcode. This is required in order to provide adequate tracking of unregistered AP settings.
Under Provision ID a dropdown menu will display for you to choose the appropriate option:

As well as recording the Date of Entry to the AP, you are also required to enter the Reason for Placement as well as SEN at Entry.
The available options here are: No Special Educational Need, Education Health and Care Plan, or SEN Support.

You are required to enter the Attendance Pattern (whether Part time or Full time with this provider).
If you select Full time, you do not have the option to enter Sessions per week, as it is assumed it will be all sessions from that date. If you select Part time you will be required to enter the Sessions per week.
When the AP ends, you need to enter a Date of leaving, as well as the SEN on Leaving. You may also add notes to this section.
If you wish to edit any current or historic AP, click on the cog next to School Arranged Alternative Provision to open up all recorded provisions.

Report on Alternative Provision
Go to Reporting > Reports > Support tab > School Arranged Alternative Provision
Filter for your chosen date range / year group / form and click Choose to view students with AP data.