On the occasion that a student at your school has died, it is a priority to remove their name from the register and class lists to avoid further upset.
You may wish to place a note on the front page of their student profile in the Notes field.

The student is then to be set to Off Roll in the usual way, in order to remove them from registers and student reports. On the extended tab, enter a leaving date for the student, save at the base of the page, and then click on Off Roll.


You are then provided with a pop up where you select a leaving reason and removal grounds.

There is the option to indicate Deceased under both drop down menus.

Click on Complete Off Roll in order to complete the process. You can access the student record via Admin > Students >Search Not on Roll, as you may need to add additional information to the profile at a later date.
You will need to liaise with the Local Authority for further guidance on how to update your records.
They may wish for you to send them the partial student CTF from Admin > Students > Export CTF> CME > CML (child misssing in education - Leaver).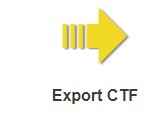 Select the student name, the Type of file (CML) and then the Reason for Removal, prior to clicking Download to generate the CTF.