Below are the questions we frequently receive for Workforce Census.
To access the DfE guidance with a detailed breakdown on each area, please click HERE.
For the Workforce Census article, please see HERE.
1 - Where do I put the QTS, QTLS or EYTS status?
In the the Staff Profile (Admin > Personnel > Staff), click the cog next to the staff member's name to edit their QTS, QTLS or EYTS Status. Where the status is set to 'Yes', a QTS Route will also be required.
2 - What data do I need to enter for newly qualified teachers?
All newly qualified teachers will undertake a first and second year of induction, with professional support provided. State funded schools will receive additional funding to deliver Early Career Teachers (ECT) training. To be recorded in this field as NQT1 or NQT2, a teacher must have QTS (rather than QTLS or EYTS). This is recorded in the Personal Details area on the staff profile.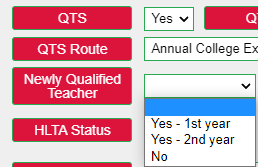 Note: All Teachers with QTS flagged as Yes will need to have a value entered for NQT (which can be done in bulk via the staff Group Updater).
3 - QTS Status is inconsistent with this Pay Type?
Teachers that are included in the Census must have their QTS, QTLS or EYTS Status set to 'Yes' if their contract also is on the teacher pay scale. Click the cog icon next to their name on the staff profile to edit this status. Please note Unqualified Teachers will show as 'Queries' in your Census return if they have their QTS Status set to 'No', you can add a note for this when uploading to COLLECT.
4 - I need to update Contracts and Absences but cannot see them on the Staff Profile?
Users need the HR role to be able to access these areas. The ScholarPack Users report (Reporting > Reports > Staff > ScholarPack Users) displays the assigned roles for each user - those with the Sysadmin and Admin Role can assign the HR role (or other roles) as required.
5 - End date is present so Destination code is required?
Any contract with an end date should also have a Destination on Leaving, as it implies the staff member is no longer employed by the school.
If the contract was not permanent, the contract type should be changed to 'Fixed Term'. If it was a permanent contract that was replaced by another contract within the same school, the Destination on Leaving should be set to 'Not applicable - change of contract'.
6- What is the Base Pay and how do I record it?
Base Pay is the actual salary received by the staff member per annum, based on the hours that they work, excluding any additional payments. ScholarPack does not change any base pay based on Part time or different hours worked. This amount should be entered in the Base Pay (Salary).
7 - When I change a staff member to Part Time it isn't changing the Base Pay.
ScholarPack does not automatically change the Base Pay based on hours worked. The amount earned needs to be entered by the school in the Base Pay field.
8- What is the Daily Rate?
Daily Rate is applicable only to non-contracted staff (e.g. supply teachers, agency workers, etc) who are paid on an ad hoc/daily basis.
9 - What is FTE Hours?
This is the number of hours the staff member would work if they were employed full time in that role, "Full Time Equivalent."
10 - What is the Occasional Teacher Headcount?
This is an area to record how many members of occasional staff are in your school on Census day, so this ranges from Supply Teachers to staff that support children with learning difficulties.
11 - What do I do if my Headteacher is the SENCO?
If your Headteacher is your SENCO and does not have a separate contract for this, you can annotate this query when uploading the Census file to COLLECT, stating that they are the SENCO for the school (for queries 6540Q and 6550Q).
If you have any further queries regarding definitions or what data you are required to supply, please refer to the DfE guidance or your Local Authority.