This query will show if a student has any attendance before the entry date listed on the extended tab of their profile. You may need to correct this entry date if it does not show correctly.

How to Resolve
Go to the student profile and click on their Extended tab


Under Core Information, amend the entry date and click save.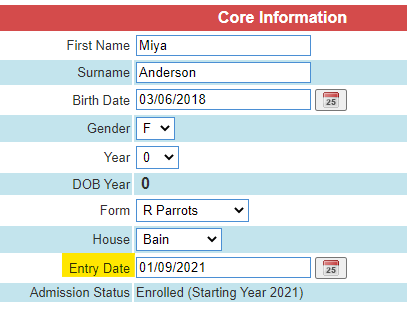 If this entry date is correct you can check the students school history on their Ancillary tab to confirm if the student previously attended your school and was re-admitted.

If this is the case the query will be accepted by the DfE on condition that a suitable explanatory notepad entry is provided.


If your entry date is correct and the student has not previously attended the school, please contact your Support Team who can check for codes prior to entry (e.g. N code, if the start date was delayed) -
If your school is supported by Scholarpack directly, click the 'Contact Us' button in the top right of the Help Centre
If your school uses a Support Partner, please contact them. Click their name in the top right of your Scholarpack above the search box, for their contact details.