Staff contract details are recorded in individual staff profiles. The data entered here will then pull through into staff reports and also census.
You are not able to add staff contract details in bulk.
HR User Role Needed
Only staff members with the HR user role can view or edit other staff member's contract information.
To add contract information to a staff member, locate the staff member via Admin > Personnel > Staff to open their profile.
Click the white cog next to Contract Info

Enter the details of the contract in the required fields.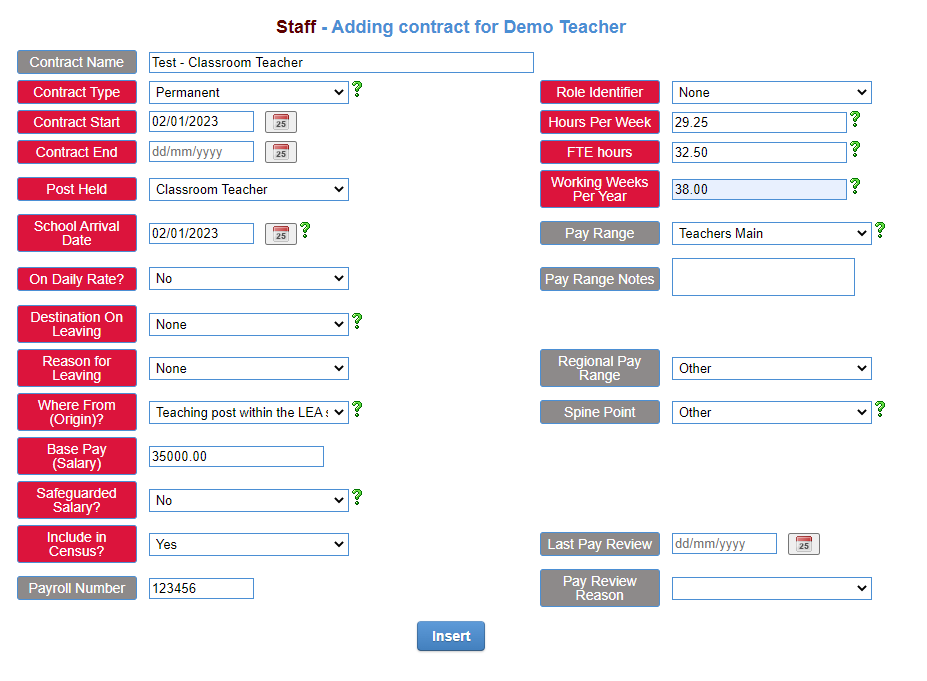 PLEASE NOTE
The fields in red will be required for your workforce census
Where you see a
- click for more information or guidance on this field
For more details on calculating staff salaries, please refer to section 2 of the following guide - Staff Profile
When you've finished click 'Insert' to add the contract to the staff profile.

If you need to edit the contract, click on the dark grey cog next to the contract name.
Cloning Contracts
Where staff have more than one contract, click the white cog to add a new contract. If the new contract is similar to an existing one then you can use the Clone Contract drop down at the top and select the contract you want to clone.

This will auto populate the new contract with information taken from the selected cloned contract.
You can then amend fields as required before pressing Insert to save the contract.
Also see -