Staff contract details are recorded in individual staff profiles. The data entered here will then pull through into staff reports and also census.
HR User Role Needed
Only staff members with the HR user role can view or edit other staff member's contract information.
Adding a contract
Please note that you are not able to add staff contract details in bulk.
To add contract information to a staff member, locate the staff member via Admin > Personnel > Staff to open their profile. If you can't find the staff member, ensure you have created their profile: How do I add a new staff member onto ScholarPack?
Click the white cog next to Contract Info.

Only a contract name and start date need to be completed before the basic contract will populate the database, but Red details must be recorded for the Workforce Census.
Enter the details of the contract in the required fields.
Click the ? symbol for more information or guidance on the field.
For more details on calculating staff salaries, please refer to section 2 of the following guide - Staff Profile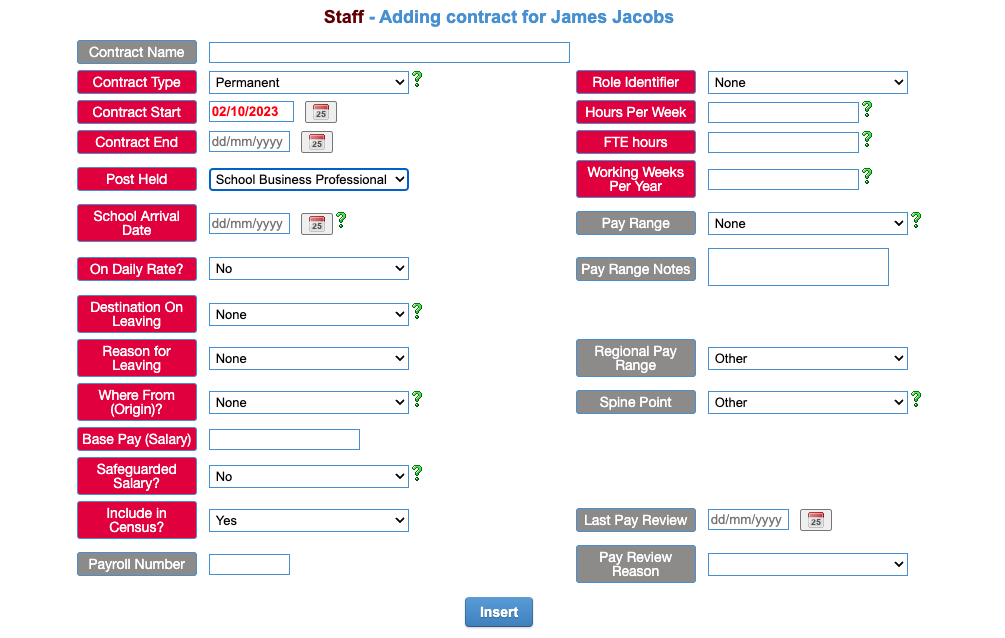 When you've finished click 'Insert' to add the contract to the staff profile.

Editing a contract
Amending details
Editing a contract should only be done if the information was recorded incorrectly. Should you need to do this, click on the dark grey cog next to the contract name.
Top tip: If you get an error, this may not be related to the figure/information you are actually entering at the time. If one of the mandatory fields isn't filled in, you need to add this to be able to save the contract.
Contract changes
When there are changes to a staff member's contract, it is advisable to clone a contract to set up a new contract as this will enable the old contract to be ended and kept as a record.
Click on the Cog next to Contract Information on the staff profile.
This then enables you to select a contract you wish to clone for the staff member (at the top of the page).

Once the contract is cloned you can put in an end date to the former contract (click on the cog next to the contract) which will then save it as an expired contract on the staff profile.

Delete a contract
As with editing a contract, you should only delete it if it was recorded incorrectly.
To delete a duplicate staff contract go to the staff profile and click on the cog for the contract on "Contract Info."

At the bottom of the page there is a delete button on this page allowing you to delete in full. It will ask you a couple of questions to make sure that this is the action you want to proceed with. Once deleted, the contract will be removed from the staff profile.