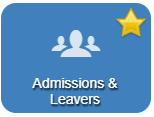 Reporting > Reports > Students (tab) > Admissions and Leavers
What does the report display?
The student arrivals and leavers report displays information regarding those students who have either left or joined the the school between a specified date range. 
How do I filter this report?
The filters available when running this report are:
Students to include: current, former or future

Groups Select the students by year, key stage, dynamic or static groups. 

Forms select a pastoral group

Arrivals, departures or both
Note: the Group and Form filters may be applied simultaneously.
Click Choose to produce your report based on these filters.
How do I order, remove and filter data?
Click the column headers to sort the data by that column (alphabetically, numerically or chronologically) according to the data. If holding Shift you may apply this function to further columns.
Click the Bin icon (above column header) to delete a column.
Use the filter box (text entry field below column header) to filter the data using specific criteria in that category. Click into a filter box then hover over it with your mouse for a full list of operators that can be used.
How do I export this data?
Exporting your data allows you to print, save, or further edit the information on screen. To do so, click this icon (in the top-right corner):

Additional information
Clicking on the student's surname takes you to their student profile
Names highlighted in red represent the students who are no longer on roll
The star on the report identifies a Favourite report.  Click on the star to add or remove it from the Favourites

 

area of the reports panel.     
Admissions and leavers report not showing an address for some of pupils
The Admissions and Leavers report displays the Contact 1 address of the student, not the address on the front of the student profile. 
To check the contact has an address listed please go to the student profile (search the name of the student in the top right hand search bar), click onto contact 1, then click onto the black cog to check an address is present here. 
Also check that the Contact is set as Active, because if they are mistakenly marked as Inactive the address will not appear in the report.