To avoid students being billed for meals they have not received during a school closure, we would advise deleting any meal patterns set up for the academic year.
Go to Admin > Meals > Bulk Student Lunches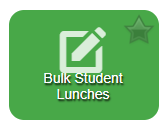 Enter the date you wish the pattern to be removed from (e.g. 23/03/2023).
Select a year group, then Choose.
All students in that year, with their meal options, will appear in a table. Click "Check All" in the final column, then "Clear All" from the Assign dropdown (see below):
Click "Assign".
All the meal patterns for that year group will be removed from the date selected till the end of the academic year.
Repeat this process for all year groups. If any student is known to be still attending school for any reason, you may choose to not select them from the list if meals will still be available to them.
This process will enable no meals to be assigned (and billed) to any student from the date selected, enabling accurate records to be kept.
PLEASE NOTE
If you are administering this change after the date in question, meal pattern deletion cannot be back dated.
In this case, remove the meals from the current date (as above), then go to Admin > Meals > Manage Student Lunches.
Enter a date after school closure, Choose, then at the bottom of the table select Remove next to each meal type where meals have been assigned.
This will change the green tick to a grey version, which means the meal is removed (and therefore not billed).