You can add, edit or delete school holiday dates via Admin > Config > Core Setup > Holidays
This section will allow you to set the dates when the school will be closed e.g. summer, Christmas, Easter, bank holidays and training days.
NOTE
You only need to enter the dates school will be closed and students are not in attendance, do not enter your term start and end dates.
By entering in the school holidays accurately you will avoid any gaps in student attendance.


Add a Holiday
You can enter a school holiday by scrolling down to the bottom and using the Holiday drop down box to select the appropriate holiday -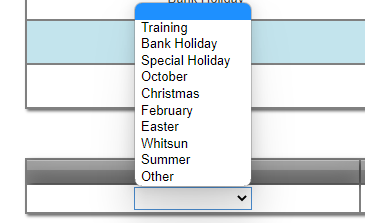 Next you will need to enter the holiday Start Date and End Date

NOTE:
This should be the first and last day of the holiday, not the day on which school finishes or returns.
Click the 'Add Holiday' button to complete.
Editing Holidays
You are unable to Edit holidays once entered. If you need to amend a holiday you would need to delete it and then re-add it.
Delete a Holiday
If you need to delete school holidays that have been created because of an error, simply click the Delete button.


IMPORTANT
Do not delete previous academic years holiday dates as this will affect your attendance data for that year.

Last Years holiday dates are automatically labelled as 'Last Year' once the dates have passed.